ABOUT US
SATYAM Group of Companies, established in year 1999 by Mr. Harsh Vashist, engineer by profession, holds multiple business interests such as: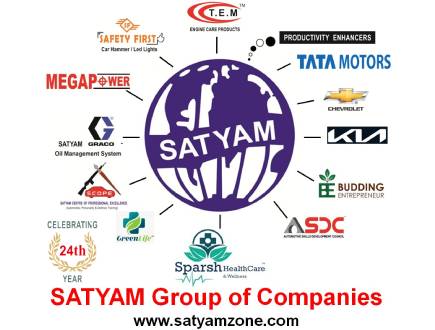 SATYAM INTERNATIONAL

Deals in workshop automation offering complete solutions related to Air, Lube, Painting etc related to Automotive and Industrial segment.

For more information Click -- http://www.satyamzone.com/

TOTAL ENGINE MANAGEMENT SERVICES PVT. LTD.

Manufacturing car care products under TEMTM brand. Offering Value Added Services like Cosmetic, Mechanical.

For more information Click -- http://www.satyamzone.com/

SPARSH AUTOTECH PVT. LTD.

World prestigious NISSAN & Datsun (Japan), General Motor (USA), Car Dealership in Dwarka, New Delhi. Showroom and Workshop are based on eco-friendly Go Green concept and one of its kind.

For more information about Nissan and Datsun -- http://www.sparsh.co/nissan
For more information about Chevrolet -- http://www.sparsh.co/chevrolet

SCOPE (SATYAM CENTRE OF PROFESSIONAL EXCELLENCE)

SCOPE is one of the leading names in imparting High Quality Skill Training in Automotive and Defence Sectors. Our aim is to empower youth to take up industry relevant skills as well as improve their overall personality.

For more information Click -- http://www.scopeskill.in/

SPARSH CORPORATION

Deals into Real Estate business. We design homes not houses in Delhi and NCR with a mixture of Luxury and repose. With the refined and contemporary design, every distinctive building has a signature characteristic.


OUR OBJECTIVE
We emphasize mainly on factors like:
Quality

Reliability

pricing

Service
OUR VISION

Our vision is to become the undisputed leader in our kind of business by imparting effective business services to our clients.

QUALITY

Quality is our primary concern and our company is committed to provide quality products that are synonymous with the international standards of quality. It is our Endeavour to furnish premium quality products at most competitive prices.

CLIENTELE

We have developed an extensive client base due to the impeccable quality of our product range. Some of our customers include: Honda, Hyundai, Maruti, Skoda, Renault, BMW, Mahindra, Toyota, Indian Air Force, Heavy Commercial Vehicles Segment, DTC- Ashoka Leyland and TATA Group and Network of Car Dealer (after market).


HIGHLIGHTS
Rich experience of 2 decades in the automobile sector




Leading company offering world class solutions like pneumatics, lube, paint, lifting and vendors to prestigious OE's like Maruti Suzuki, Hyundai, Honda, General Motors, Tata Motors ... etc.




Dealership of World class car companies like Chevrolet, Nissan & Datsun in NCR with facilities of sales, service and spares.




Graco Achiever's award 2011




3M Award Winner 9 times in a row since 2005




Chevy Rocker award 2014-15




Big Finish award 2014-15




Membership of automobile prestigious organisations like FADA & ATAD




ISO 9001-2015 Quality Management system by American National Standard Institute (ANSI)




More than 4 decades dedication in Education Field.




Classic projects RealEstate Sector.